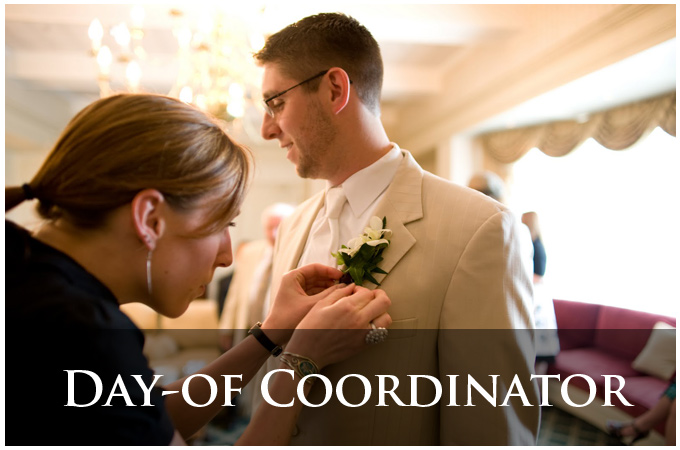 Need an extra hand with your event? Let our experienced staff of event planners, wedding planners, and day-of coordinators help you out.
A "Day-of" coordinator is for any event or brides and grooms who want to do most of the planning themselves, but when their day arrives they need a professional to execute all of their hard work.
Meet our Wedding planner and day-of coordinator Carolina! She will help you prepare and manage the most important day of your life as well as take care of all the details listed below:
Management of all vendors (ensuring all vendors arrive and setup on time to both Wedding Ceremony and Main Reception)
​Timeline management (ensuring all events run according to the timeline, moving guests from one room to the other throughout the night)
Point of contact for all vendors and guests (all vendors and all guests will have a cell phone number to call for any reason)
Performance evaluation of all vendors (going through each vendor's contract to ensure they deliver what was promised)
Coordination with the caterer (ensuring food is served at the proper time & doesn't get cold. Ensuring the Bride & Groom eat and all guests receive meals. Ensuring the first course, champagne toast, main course, cake, and dessert are served​​
Personal Assistant for the Bride & Groom (Attire services, emergency kits, coordination to and from ​the ​Ceremony and Main Reception)
Meet with bride and groom to present timeline. Go over any arrangements the couple have previously made with vendors, and update timeline accordingly.
Confirm final details with vendors prior to wedding day. Make sure that all vendors have The Wedding Sitter's contact information. Send vendors a copy of the final timeline and make sure they have directions to the ceremony and reception locations.
Please Note: A day-of-coordinator will not re-negotiate any terms in contracts with vendors at this time, or at any other time prior to, during, or after your wedding day. All agreements should be finalized prior to the wedding.

Coordinate hair and make up
Coordinate food, delivery and vendors to be on time and ready for their jobs
Make sure flowers are ready for bridal party
Hand out the list of "must shoot" shots to photographer
Communicate with transportation to make sure bride, groom and bridal party is arriving on time
Set up ceremony items (candles, Kiddush cup, breaking glass)
Ensure musicians arrive on time and are ready for party
Confirm the music that ceremony musicians will play and how to cue them for the music
Communicate with bride and groom at all times to maintain timeline
Line up and arrange bridal party
Gather family and bridal party for the photos
Greet vendors instruct them as to where to set up i.e. wedding band, florist, and caterer
Ensure that entire space is ready for event
Meet catering staff and confirm food timeline
Set up guest book if available
Make sure the bathrooms are ready and presentable for guests.
Arrange seating and tables
Ensure proper flow of cocktails and food
Look over the dining table and make sure they are ready
Help guests locate their escort cards and tables
Cue the bridal entrance and music coordination
Cue the bands, photographers and videographers for special events happening through the night
Keep track of food (full plates, warm food, water glasses always full)
Distribute final payments to vendors (will need checks before hand)
Remain accessible to the bride and groom throughout the entire night
Prepare reception gifts for guests
Coordinate departure transportation for bride and groom
AWARDS & RECOGNITION
Bitton Events is proud to receive WeddingWire's 2013 Brides Choice Award, get inducted into SMP's Little Black Book, and win Best of Wedding.com!
Contact Us
Enter your information and we will get back to you as soon as possible. For a faster response, you may call us directly at +1.855.524.8866.
Thank you for contacting us! We will reply to your email shortly.