Different events require different forms of entertainment. Whether it's your wedding day, your kid's 16th birthday or the annual company conference, you want to make sure that you've got the right act for you.
Did you want your walk down the aisle to be showcased by a jazz band or a DJ? Would your child be more entertained by some band dressed up as rock stars or their favorite artists mashed up into one remix? Will that pianist and saxophonist bring your employees to the dance floor or the DJ's top 40 playlist and flashy lights?
The questions are endless! Arguably, one of the key factors in a successful and memorable event is the entertainment portion. But what may be considered amazing to one person may be boring to another. When it comes to choosing a band or DJ—or even both—for your event there are a few things to keep in mind, and remember that the unforgettable memories are the ones worth having.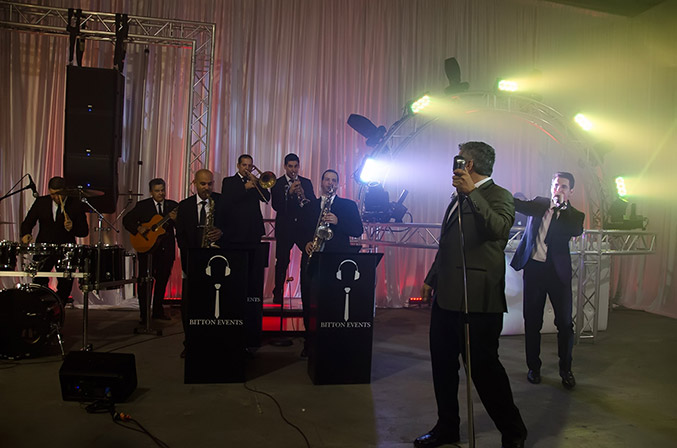 (Bitton Events Band)
Bands are quite popular, and have always been; because they bring their own energy and atmosphere to every event, they have to…they're playing live! They exude high energy and if they're exceptional, that energy will set the tone for the entire event. One concern is that you aren't guaranteed how their actual performance will turn out, unless of course you do your homework, watch videos, or see them perform beforehand. Not to mention, they can add a touch of class and sophistication to the event which would really impress that competitive family member of yours or last year's corporate event planner, but only if you can really afford it in your budget.
High quality bands in South Florida typically start at around $900 per musician. However, this usually includes all equipment, and a very expensive high-end sound system good enough for up to 500 people. When it comes to their musical repertoire, some bands will allow you to choose from a set list—which can be short and concise or long and well-rounded—for your event or some may have their set playlist already. Some people prefer to leave the music up to the entertainers so this is one less chore for them. If you realize you forgot to add in one of your favorite songs on the same day of the event, keep in mind if they haven't thoroughly rehearsed the song before, it is most likely impossible to play it on demand. Also note that most live bands can tend to play the full length of each song (3-4 minutes each). If you want to hear entire songs, without transitions, then this is for you. If not, I suggest you keep reading.
DJs, otherwise known as Disc Jockey's, have become key components at every event as of late and are the more common choice in modern times. This is due to their versatile abilities and tastes with music and while they may not have live instruments, they are artists in their own right creating new music out of other components as their job. They can bring in a lot of energy when necessary and most can play the charismatic emcee or bring one with them for announcements and to keep the atmosphere alive. They usually have videos or playlists online for you to preview. Don't forget that budget-wise they may be the better choice if you're trying to save starting at around $250 per hour in South Florida. That will also include their equipment, speakers and possibly light shows depending on the DJ which can work well for almost 500 people. Now when it comes to the music one cannot deny that the DJ has the competitive factor being able to play any type of genre or language of music on the spot. You can also create your very own playlist of songs you absolutely must have played, as well as those that shouldn't be played. DJ's are receptive in the sense that they are driven by their surroundings; they have an uncanny ability to read the crowd's body language and can transition into other music at the fraction of a second if necessary and can take you and your guests requests the day of while judging what requests to blend in an which ones to leave out. Now if you're looking for well-rounded playlists and don't mind your other attendees requesting the cliché 80s songs—if you're allowing them—and love the light show and feel, then this is for you. However, while you are only dealing with one or two people, those are the only ones you can talk to if you have an issue or requests so make sure they have the right attitude and feel for your event or it may not go as smoothly as you planned. But let's say maybe you don't want to choose, you want both…well there's an answer for that, too.
This new entertainment idea of combining musicians and DJ's is better known as Fusion. And yes, it is as cool as it sounds! Essentially it's the best of both worlds combining the high-energy of a live band with the versatility of a DJ and infusing it into one exciting and more affordable act. The choice in musicians include a drummer, saxophonist, electric violinist, trumpet, conga, and more. What happens is the DJ will play various genres of music including Top 40, Latino, Swing, Hip Hop, Classic, etc. and the well-trained musician will play their instrument along with the songs adding that live energy to the music and enhancing the performance factor. While it's new, this trend has been on the rise and really brings a new entertainment factor to your event.
Summary
So as we mentioned, bands are high-energy, bring sophistication to the table, can play previously chosen set list—whether a genre or playlist—but will come at a higher cost and cannot play upon every request the day of. DJ's are versatile being able to playback any sort of music on a whim and transitioning seamlessly, can produce a vivacious ambiance with their emceeing and possible light shows, and are less costly but won't have the live feel. If you decide on both, you can combine it with Fusion and have that musician and DJ at a reasonable cost and add both class and energy to your next event.