As I walk up to our office I always catch myself staring at our banner outside of the office which reads Bitton Events and features our logo of a DJ's headset and a sleek tie. A logo I've become familiar with. Walking into our all-white office at 10:00 am on any given weekday I always see David, my boss, sitting happily at his desk behind the French doors chatting away with some client over the phone while typing up a storm and never missing a beat to greet me with an enthused "good morning" or a wave hello. In the background I can hear the modern music playing on Pandora and chairs moving in the back where I and the the rest of the team work at our desks. Whether I was content, angry or stressed—once I get past the door and I sit down, I forget and become enthralled in that fast-paced world of planning, entertainment and marketing.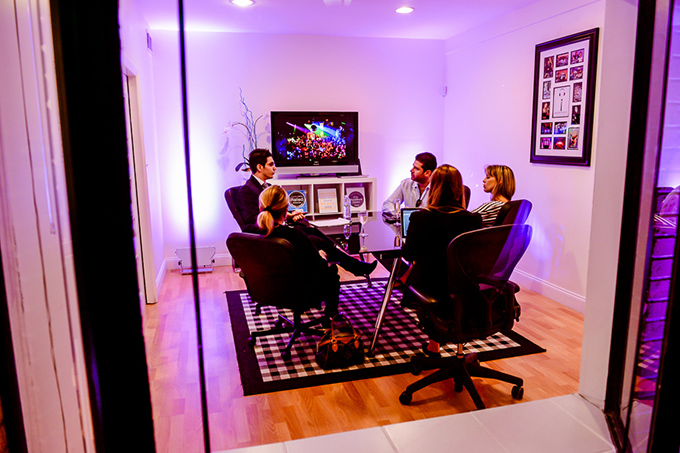 Office meeting in Bitton Events conference room
As I flip open my laptop and click on my internet browser, those familiar pages of Trello, Bitton Events, Twitter, Pinterest, PayPanther, and Google pop up. As the day begins, I start my fun with online marketing initiatives like responding to tweets, adding tips and pictures to our social media outlets, updating our information and researching various topics to draw inspiration from for our blogs. As it becomes a seamless process through practice and familiarity; one which I thrive on and which forces time to pass faster than you'd want because before you know it, it's nearly 5:30 pm and time to pack up.
On any given day we will be filled with multiple meetings, events and daily tasks. Today as I sit at my desk perusing through pins of DIY décor and checking out venues, David tells me we have two meetings, one with a bride about her upcoming wedding that I will be assisting the Day-Of-Coordinator with and another with a DJ who may possibly join our entertainment team. Before we can get to that though, I am tasked with perusing our photos for displays of bistro lighting that we have done to include in a proposal email for a potential client. On top of that I have to write up a blog post about different lighting options for both corporate and wedding events. If you haven't noticed, busy is the name of the game but busy doesn't equate to boring or bad; if you're like me and you have a passion for this, it's a learning experience. One that you can only come to appreciate when you get to move those bullets from your "doing" to "done" column on Trello, when you see your blog and posts published online and receiving comments and likes, when the wedding party is thanking you for all the work you put into their wedding day or when David simply gives you his approval.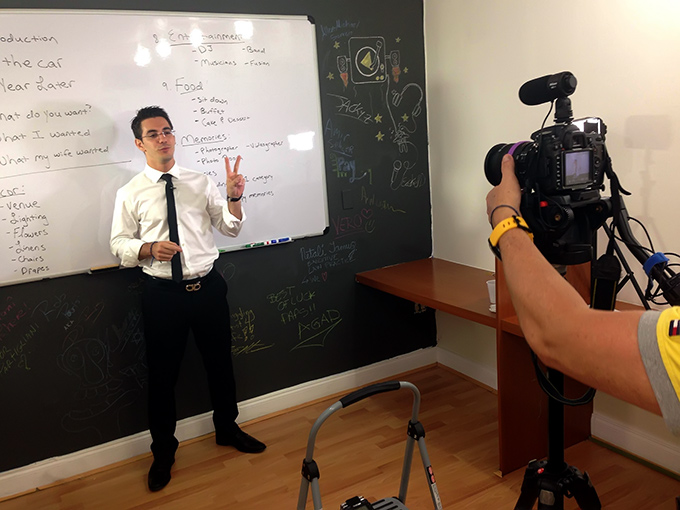 David recording yet another helpful video for Bride and Grooms, standard.
This blog title is misleading though, because no day is ever the same, there is always something different to do. Especially the events themselves, you HAVE to be prepared for anything. Clients can be demanding, timelines can shift on the spot, but overall every day and every experience is unique. Whether it's as trivial as responding to tweets or tying some cushions to chiavari chairs or as complex as playing mediator to various vendors or having to make emergency phone calls to replace no-shows the day of your event, you will be tasked and tested many times but I promise, those moments when you have to make split-second decisions, when you're typing faster than you can think, when you're running around in a pattern of 'pick up and drop off', when you get to watch David deejay a live set and realize that he loves what he does…like me—you'll realize you do too.
-Written by Stephanie Hernandez