Event Lighting & Decor in Miami, Florida for Weddings & More
When designing your event, you may think of every detail—the venue space, flower arrangements, centerpieces and giveaways, catering options, entertainment, seating and so on and so forth—but sometimes you may not put in as much thought into event lighting & decor. Yes, you included a few LED uplights on the drapes or around the walls and your DJ brought a Gobo for the dance floor (let's hope he can do better than that, though) but that isn't taking advantage of what it can really offer you. Lighting is the epitome of taking your event's atmosphere from beautiful to stunning, modern to state of the art, memorable to unforgettable. If you want to transform your event site, you will need to add some event lighting into the décor. Event lighting & decor creates just the right mood, and when it's done well it can make everything—the flowers, the cake, the dance floor—pop even more!
Pinspot Lighting in Miami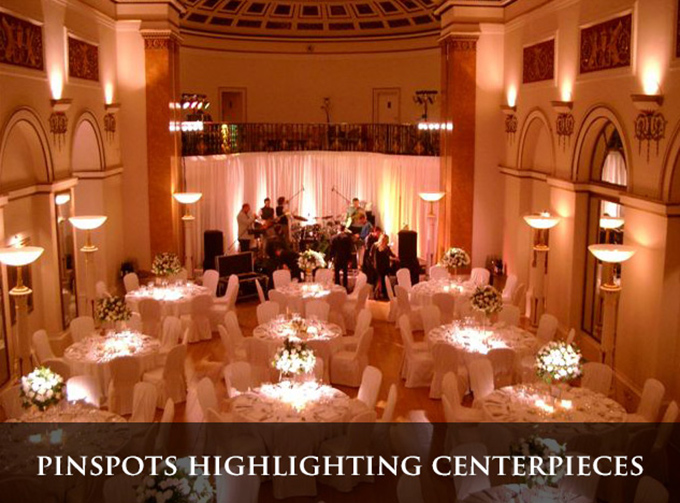 A pinspot is a focused beam of light that shines directly into an object, like a centerpiece, flower arrangement, centerpiece on each table, or wedding cake to make it stand out as shown in the image above. It's always a good idea to ask your florist or DJ to show you an example of your flower centerpiece with and without pinspot lights so you can see the difference it makes. When guests walk into the room their attention immediately goes towards anything that is lit with a pinspot light.
Gobo Monogram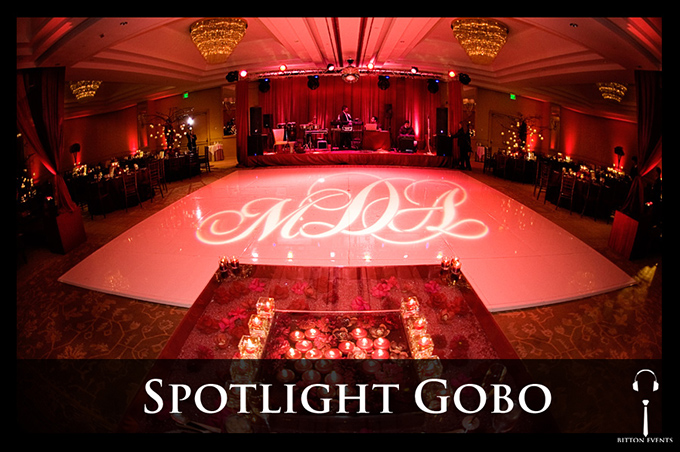 Gobo monograms are essentially a metal or glass circular cutout that is placed inside a high powered LED projector to project a pattern, name, logo, or initials. The most popular designs are monograms and wedding motifs. Look into our Gobo Catalog to see the many options available.
Bistro Lighting in Miami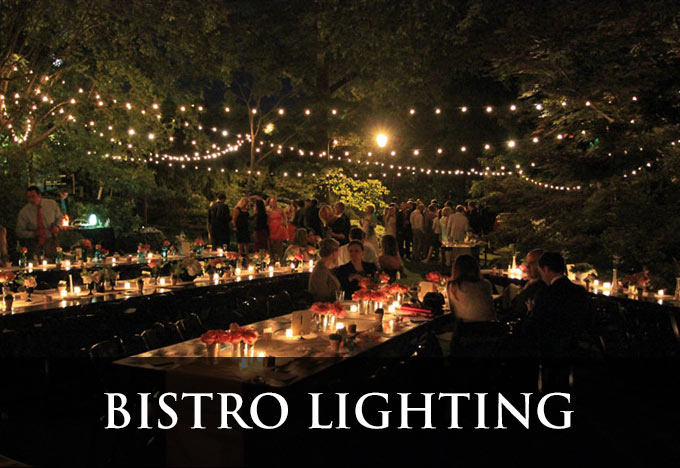 Bistro lighting, otherwise referred to as string lighting, market lighting, and many more variations, offers a classy, elegant, romantic, and intimate setting for any outdoor wedding or event. The atmosphere set is calm and peaceful and it's relatively affordable if you have places to hand the lights from (like the trees shown in the picture above).
Wireless LED Uplights in Miami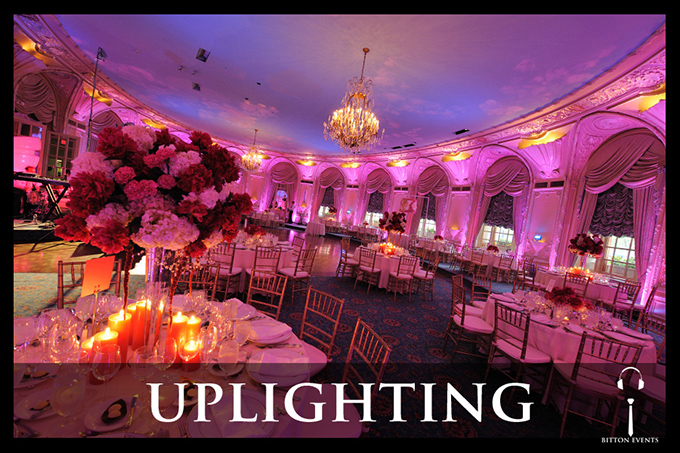 Wireless LED uplights are one of the most popular ways to literally TRANSFORM your ballroom at a fraction of the cost for pipe and drapes or other expensive decor. Change the color, tone, vibe, and atmosphere instantly. LED uplights come in 2 variations: regular and wireless. What is the difference you ask? Wireless don't have any cables leading to less duct tape around the entire room which can destroy the beautiful decor and setting you were trying to go for. LED uplights can be set to virtually any color you can imagine as each light has numerous shades that can be custom programmed in. For a more "club" vibe, you can also set them to sound activated mode to change colors according to the beat of the music when dancing begins.
Intelligent Lighting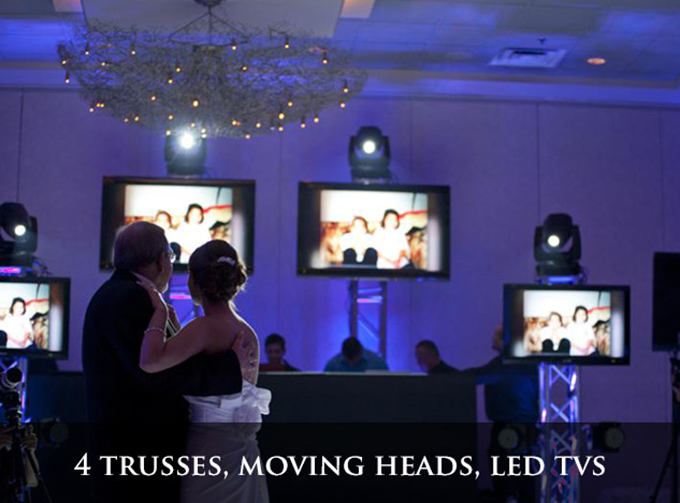 When using colorful lights, especially LED uplights, you should try and find complementary colors and colors that complement all skin tones like different shades of pink. Take advantage of the effects colors can have on the atmosphere by changing the shades throughout the night. For example, a vibrant color for the cocktail hour, a softer golden light for dinners, and fun colors if there is an entertainment portion. These transitions are simple to do with our intelligent lights that can be programmed with the lighting technician that will be on-hand. Intelligent lights usually refer to "intelligent moving head" lights which you can see pictures above the TVs on top. These lights can shine as a spotlight on the center of attention or use different patterns moving in a slow motion during a cocktail hour or dinner to set a rich looking effect or strong and change colors during dancing for a concert style light show.
LED Dance Floor Rental in Miami, Florida
Definitely one of the most eye popping and jaw dropping decor additions to any event, the LED dance floor can light up according to the beat of the music and will transform your dance floor into the WOW effect you were always looking for. Keep in mind these are relatively expensive due to the intense labor for setup and breakdown.
LED Pillars / Light Trussing

LED pillars and light trusses are used to add lights on top and raise them off the ground. They can also be colorized with uplighting inside to go with your theme as shown in blue above.
Need some more help or want more pictures? Click here to view all options.