Choosing Your DJ is like Dating
In this article we will show you how to review and find the best DJ in Miami, Florida although this article can apply to mostly every city, state, or country around the world. So you've got the venue, catering, lighting, décor and floral design done. Now comes the fun part…the entertainment! Except…this process may not be as fun as you thought. Finding the right DJ for your event can prove to be difficult especially if you don't know what you actually want. Worse, if you don't know what to ask or what you need. It's like dating, you may have an idea of who that perfect person is but you aren't sure where to start and you want to make sure that they're right for you so you need to get to know them well. You might find yourself asking: What music do they play? How many hours will they perform? What equipment will they have? And the worst of them…how much will this cost? Well here at Bitton Events, we want to help ease that process so here are a few suggestions from a professional stance on questions to ask when hiring the right DJ for your event. But remember, this is your event so make sure you're asking the questions that will satisfy you.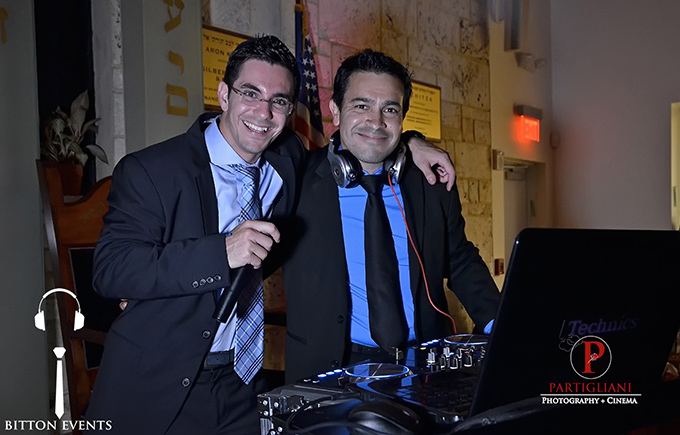 (Bitton Events DJ Leo on the right pictured with David Bitton)
Questions to ask every DJ:
Do you have liability insurance? It is becoming increasingly necessary that a DJ carry proof of full liability insurance to play at most venues and provides a sense of assurance on your part. It's fairly inexpensive so it shouldn't be costly for them, either.
Will I be hiring you or one of your companies DJ's? Most times, DJ entertainment companies have more than one DJ on hand which can be to your benefit. You can choose the right one for you and make sure that you're getting what you paid for. It also assures you that they will have someone else on hand if an emergency occurs.
Can we setup a meeting? Any professional and respectable DJ would be able and willing to meet with you so that you can get a personal feel for them and vise versa. Not being able to meet with you prior to your event should be a cautionary sign.
How much experience do you have with my event? Whether it's a party, corporate event or wedding, your DJ should have some form of experience in that field…it's arguably the most important question to ask. You should always go with the DJ who is best trained for your event because they will understand the timeline, and will aid in the seamless flow of events and can help in controlling and distracting from any minor issues that may occur. While novice or side-job DJ's may come cheaper, they don't guarantee the success or entertainment value of a more practiced DJ.
Where can I look at a trusted third party website for reviews and/or referrals? Respectable DJ's should be willing to have their services evaluated on third-party websites for others to review and look at. Some of these websites can include Wedding Wire and The Knot. You should be able to get a fair unbiased look at your possible DJ and be assured of what they will offer you.
Do you have video and audio examples I can look at? Most DJ's will post videos, testimonials and photos of their previous work for you to view. It's important that they do so you know what to expect from your prospective DJ and to showcase how they and their equipment work.
Can I go watch you perform? You can ask a DJ if you are allowed to watch them perform at another event but any trustworthy DJ should tell you no. If they say yes to a private party, that's a definite red flag. The reason being that those are private events so no one aside from invited guests should attend; you would not like to have outsiders intrude on your event to watch the DJ nor should the DJ be focused on a possible client, instead remaining focused on the paying client's event. If they have a public event, they may invite you to those.
Will you be emceeing or will you provide one, if not? Most DJ's either act as the Master of Ceremonies or bring an MC with them. But that isn't a guarantee of ability or effectiveness. Make sure they are willing to go over name pronunciations, timelines, can make announcements and introductions and in the way you'd like it. Some events prefer the high-energy emcee that is constantly pushing people on the dance floor, while other events prefer the quieter laidback emcee that only makes important announcements. Whatever the case, make sure they can provide it or have someone who can.
What music do you play and how do you mix it? Your DJ should have an extended repertoire of music but you want to make sure that they can play your special requests or genres of music and that they can blend them well. Would you rather a simple iTunes playlist or a seamless transitional mix? That's up to you but you want them to be able to do whatever you need (e.g. take guests requests, not play hip hop or country, do various top 40 songs, etc.) and do it well.
What equipment will you bring with you the day of? Different DJ's have different equipment. Usually the brands are ones you've never heard of unless you work in the entertainment industry, but if you hear a brand you recognize well from retail…that's not always a good. They should be using professional brands for their wireless microphones, speakers, consoles, amplifiers and so on that can last for 4 hours or more. In regards to speakers, you should inquire on whether they'll provide a set of speakers for the entire night and move them around or if they'll have multiple speakers for the various rooms and events. Also ask about backup equipment should the primary fail. Any professional DJ will provide both and know what to do in case of emergency.
What makes you unique to other DJ's? It's okay to ask a DJ what their greatest strengths and weaknesses as a DJ/Entertainer are and why you should hire them, but it is not okay for them to disparage competition or other companies. That's bad practice and leaves you to wonder why they felt the need to. Pick a DJ who can convince you on their merit and passion and not their comparison.
What is your policy in case you cannot attend? Make sure that if your DJ is not able to attend or perform for whatever reason, that they have a second DJ available to take their place or another plan with which to carry it out.
When will you setup and breakdown everything? It's good to know when your DJ needs to setup and takedown for time coordinating purposes with your other vendors. You can ask them how early before the event they need to show up and how much time they'll need afterwards so you can plan accordingly.
What do you include in your package? This is very important because you need to know exactly what it is you're paying for. Some DJ's will include just basic DJ equipment while others will provide Lycra covers, light shows and emcees. You won't know what they include though—you won't even know what they can offer you—until you ask. Sometimes the extras can be worth including and other times the "basic" packages can vary from one DJ to another so it's important to know the details.
How much do you charge? If a DJ can give you an immediate answer, that's a problem. DJ's need to customize quotes to every customer because of the different needs so what they may have charged a previous client may not be the same as you. A good DJ will not be able to answer though till they know more information such as the type of event, location, time required, amount of equipment, etc. Once they have gathered all the information necessary then they can give you a more appropriate answer.
What kind of deposit do you require? You need to ask how long they will hold your date for, how quickly they require a deposit (and how much) and when everything is due by so you don't lose their services and so they don't lose clients. A DJ who tries to get you to sign and pay full price on the spot is probably not the best answer unless you're able to. Make sure to meet with them and if you aren't sure after the first meeting, its okay to reschedule but don't take too long or your event's date may be taken.
Is a contract provided? This may seem obvious, but make sure that you are receiving a copy of the contract with all the details discussed and that if anything is changed, that the DJ sends you new updated copies. This is good practice with all vendors of course because it reminds you what you paid for and what is to be provided so everyone is held accountable.
Do you have an online planner where I can work with you over the course? Some DJ's offer online login areas where you can plan your event, timeline, and music requests and which they can also work with so that you are assured of your events entertainment even if you cannot meet with them periodically. This isn't something everyone offers, but when they do it's an added bonus and can really help the planning process.
What do you expect from the venue and us? DJ's need to work with the venues for setup and during the event (i.e. power outlets, lighting and space) so it's important that they can communicate with each other and you. If the DJ does have any special requests of you like your music selection, song requests or approval, you need to make sure that you are as open to speaking with them as they are you and that the venue can provide what they need so that you are all able to agree on everything.
What's you attire for the event? This may seem frivolous to you, but DJ's do have a dress code they follow for various events. Whether it is the classic suit and tie, or patterned vest and bowtie or just regular clothing; they all have preferred looks. If you're picky about this sort of thing or want the DJ's attire to complement the event, whatever it may be, ask about their dress code. Most DJ's can adhere to requests or dress appropriately for the occasion.
These questions should help you garner a better feel for your possible DJ and reassure you before you hire them. You don't have to ask everything on this list and we may not have mentioned every detail you thought of so make sure you ask about what you really are concerned with so that you feel most confident in your choice. Remember, you are looking for that right "date" after all. We hope this article helped you review and find the best DJ in Miami, Florida. Good luck!
Check our DJs availability
Enter your information with your event date and we will get back to you as soon as possible. For a faster response, you may call us directly at +1.855.524.8866.